Willow

Humanities
This term we will be looking at South America, reviewing what the continent offers the world.
Maths
Multiplication and Division -
Pupils will be taught to:
Year 3
recall and use multiplication and division facts for the 3, 4 and 8 multiplication tables
write and calculate mathematical statements for multiplication and division using the multiplication tables that they know, including for two-digit numbers times one-digit numbers, using mental and progressing to formal written methods
solve problems, including missing number problems, involving multiplication and division, including positive integer scaling problems and correspondence problems in which n objects are connected to m objects.
Year 4
recall multiplication and division facts for multiplication tables up to 12 × 12
use place value, known and derived facts to multiply and divide mentally, including: multiplying by 0 and 1; dividing by 1; multiplying together three numbers
recognise and use factor pairs and commutativity in mental calculations
multiply two-digit and three-digit numbers by a one-digit number using formal written layout
solve problems involving multiplying and adding, including using the distributive law to multiply two-digit numbers by one digit, integer scaling problems and harder correspondence problems such as n objects are connected to m objects.
English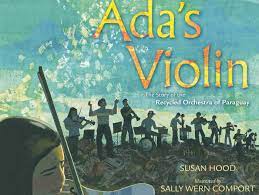 Our focus text will be - Ada's Violin
Ada Ríos grew up in Cateura, a small town in Paraguay built on a landfill. She dreamed of playing the violin, but with little money for anything but the bare essentials, it was never an option...until a music teacher named Favio Chávez arrived. He wanted to give the children of Cateura something special, so he made them instruments out of materials found in the trash. It was a crazy idea, but one that would leave Ada—and her town—forever changed. Now, the Recycled Orchestra plays venues around the world, spreading their message of hope and innovation.
Reading
As a class, we really enjoy reading, and we read for at least 20 minutes a day. Reading record will be checked every day and this will contribute to your child achieving their Bronze, Silver and Gold Certificates for consecutive reading.
Forest School
Our class will participate on a Thursday morning with Mrs Crosby. Please ensure that your child has their boots and kit every week. Please speak to us if you need guidance on what is required.
PE
Tuesday and Friday afternoon and will be with Mr Maxey and Mr Ticehurst who will use their extensive coaching knowledge to support a variety of different sports.
Homework
Spellings will be set via Spelling Frame. Children have one week to complete the test on the given words.