Cherry

We hope you have had a wonderful half-term and are ready to start term 4!
Please scroll down to look at our daily timetable and upcoming learning for the term. If you have any questions please speak to myself or Ms Mcgarvie at the door or through our online learning platform 'Seesaw'.
Kind regards
Mrs Greenwood
Cherry Class Weekly Timetable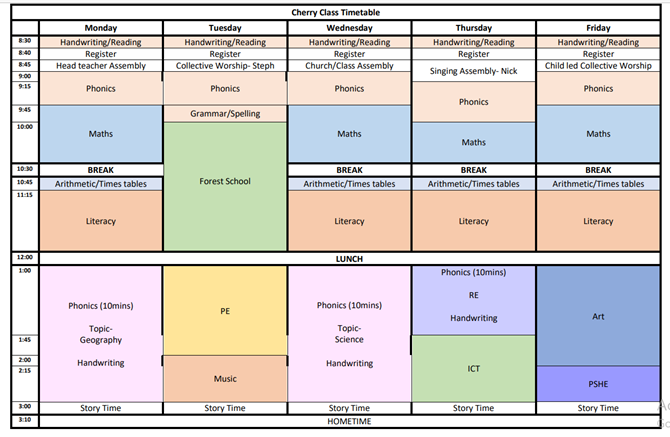 Please ensure all school uniform is clearly labelled.
Children will need a:
PE kit - white t-shirt, black shorts and plimsolls.
Forest school kit - long trousers, long sleeved top, coat and welly boots (please see timetable above).
If you have any questions, please don't hesitate to talk to Mrs Greenwood or Ms Mcgarvie. If necessary, please make an appointment.
This Term
Our topic this term is 'Around the World'.
In Literacy, we will be creating our own newspaper reports based on Ernest Shackleton and then rewriting our own versions of Jack and the beanstalk. We will be ending the term with Poetry based around Spring.
In Numeracy, children will have been focusing on time, geometry and addition and subtraction methods.
In RE, we will be looking at 'Islam'.
In PSHE, we will be looking at 'Relationships'.
In ICT, we will be looking at 'Programming a robot'
In Topic, which covers Art, Geography and Science, will be looking at different climates, Europe and physical and human geography. We will also be studying plants in science and using the ocean as inspiration for our art work.
Home Learning:
Please log in to your Seesaw accounts to access our online learning platform.
Homework-
Reading - Please make sure your child is reading every day. Please sign and date their log books each time your child reads. If you feel your child is confidently reading their book, please practise the RWI words with your child (red words and green words). All children should now confidently read and spell set 1 and 2 words with few errors. They should begin be able to read the majority of the red words. Year 2 to focus on set 3 for this term until your child can confidently read and spell each word on the list.
Spellings - set via Spelling Frame
Timetables/maths - set via Maths Frame
Additional Home learning activities:
Great for crafting and creating:
Other websites:
These are great sites for looking after yours and your child's wellbeing.