Admissions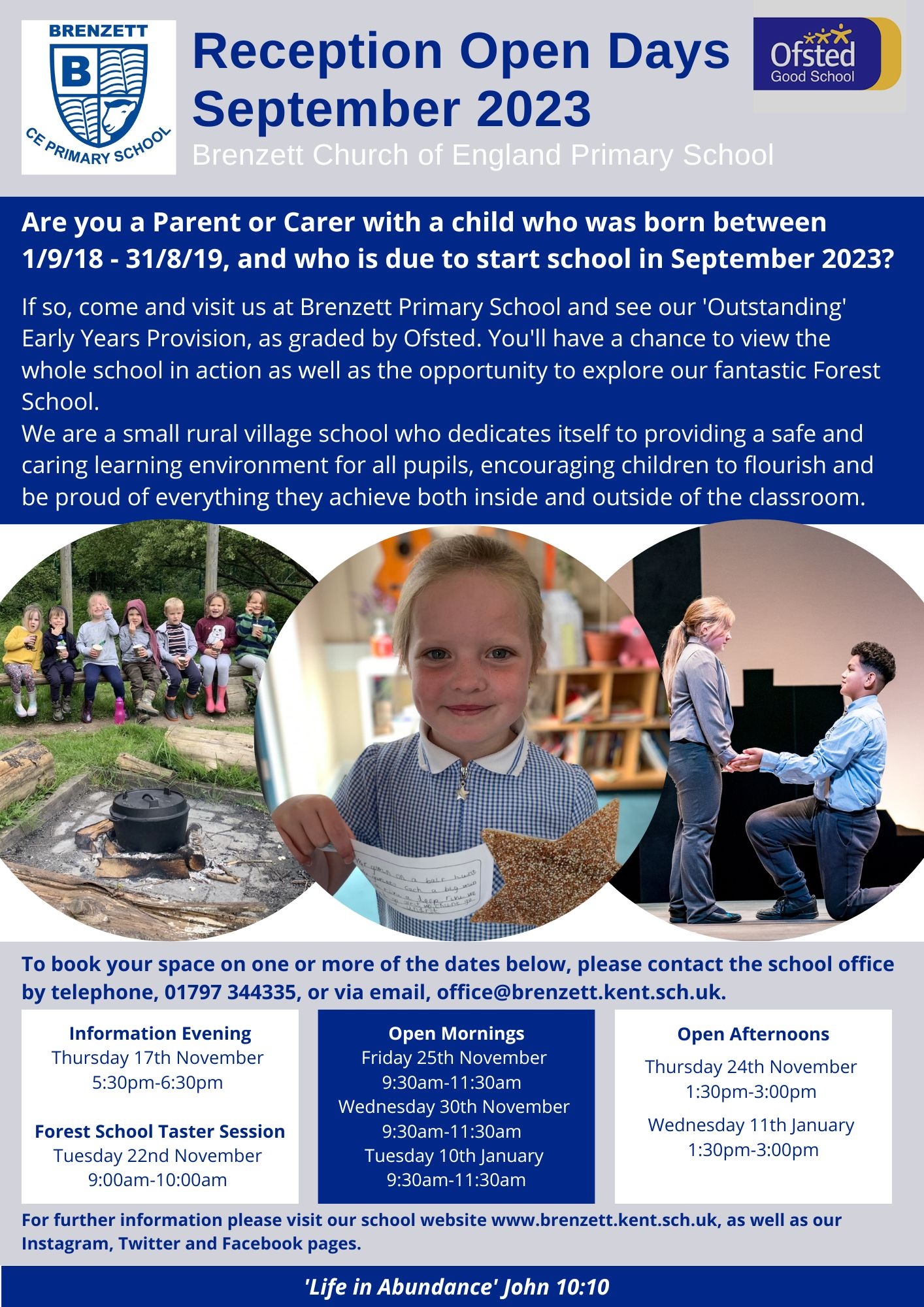 We would like to take this opportunity to welcome any new and prospective parents to our school family. At Brenzett, we are immensely proud of the way we work with our parents, children and families.
This page aims to give you a flavour of who we are and what we have to offer.
We welcome calls to school (01797 344335) to answer any of your questions and queries, or please email our school office at office@brenzett.kent.sch.uk
There is virtual tour of our school and we will share some of our current literature on this page.
Please look out for updated information for new and prospective parents in the near future!
There is more information regarding year R specifically available here.
We really look forward to meeting you and sharing our wonderful school with you.
Please find below, some of the documentation we would normally share with our families when we meet you.
Primary Admissions
If your child is due to start primary school in September 2023 you will be offered a place on 17 April.
If your child is due to start Primary school in September 2023, you can appeal if you are refused a place at one of your preferred schools on National Offer Day (Monday, 17 April 2023).
You needed to submit your appeal before Tuesday 16 May 2023 for it to be considered by Thursday 18 July 2023. Any appeals received after this time will be heard within 40 school days from the deadline, or where reasonably possible in line with updated guidance from the Department for Education.
For late applications, appeals should be heard within 40 school days from the deadline for lodging appeals where possible, or within 30 school days of the appeal being lodged where reasonably possible in line with updated guidance from the Department for Education
To inform the school you wish to accept or refuse a place, please email the school directly using the email address provided in your offer email or letter. You will also need to provide scanned or photographed copies of address evidence to schools to the same email address.
Read our guidance on how to accept or refusal a primary school place (PDF, 140.3 KB).
The deadline for returning the primary acceptance/refusal email is 1 May 2023. If you have been offered a Kent school but live outside Kent, you may also need to inform your own local authority.
The documents of proof of address must be included with the form as set out below:
These must show parents name and address also one must include child's name and address detailed in your application, also any insurance documentation, bills and payslips must be dated for when the application was made (4th Nov 2022 - 10 Feb 2023).
You will be expected to provide original copies of this evidence to the school at a later date even if these have been scanned to the school.
Proof of address evidence can be:
One of the following: • Council Tax statement for 2021/22 and 2021/22 • Signed Tenancy Agreement or Exchange of Contracts/Completion document
Two or more of the below… • Child/Working Tax Credit/Child Benefit/JSA/Disability Benefit Letter or Statement • Driving Licence • Schedule of Motor Insurance • Utility bills such as Gas/Water/Electric/Sky/Virgin Media/BT/Broadband etc • Payslip • Hospital or Doctor appointment letter Please Note - This is not an exhaustive list and the Local Authority reserves the right to request further supporting documentation where it believes the evidence provided is insufficient to prove residence at the application address.
In-year admissions
If your child is at primary, junior or secondary school and you want to move them to a different school, you need to apply. This is called an in-year admission.
There is no guarantee that your preferred school/s will be able to offer your child a place. You should not remove your child from their current school before you have an offer of a place at another school.
Parents are advised to consider transport implications before approaching any school for a place. Transport assistance is only provided where parents apply to schools in line with our transport criteria. We are unable to advise parents of the availability of school places outside of our boundaries. If you live near to the border, your nearest school may be in another local authority's area. Please ensure you check with neighbouring local authorities before applying for school places, as this may impact your child's eligibility for free school transport.
If you are looking to move schools in year 10 and 11, the curriculum is often already set. Therefore, before making an application it is important that you explore the curriculum offer at your preferred school, as it may not align with the curriculum or exam awarding bodies at your previous school.
Apply
Please ensure you have read KCC's Admissions privacy notice before you apply for a school place.
Complete the In Year Admissions Form (PDF, 303.3 KB) and send it to us.
You need to fill in a separate form for each child and for each school you want to apply to.