Acorns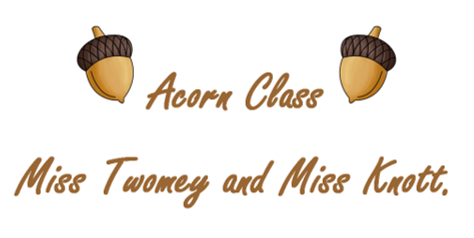 Hello, and a very warm welcome to Acorn class!
My name is Miss Twomey, I am the reception teacher here at Brenzett. I am loving getting to know the children more each day, as we embark on our learning journey together here in Acorns. The children have settled in so well to their new routines and environment, it feels like they have always been here! Miss Knott is our Teaching Assistant (TA) who you will find making play-dough or enjoying a cup of tea in our role-play corner.
Here in acorns you will often find us in the garden digging up worms, making something amazing or learning our new speed sounds in Phonics.
Below, you will find our weekly timetable filled with all the activities and learning we have slowly been adjusting to.
Acorns Weekly Timetable: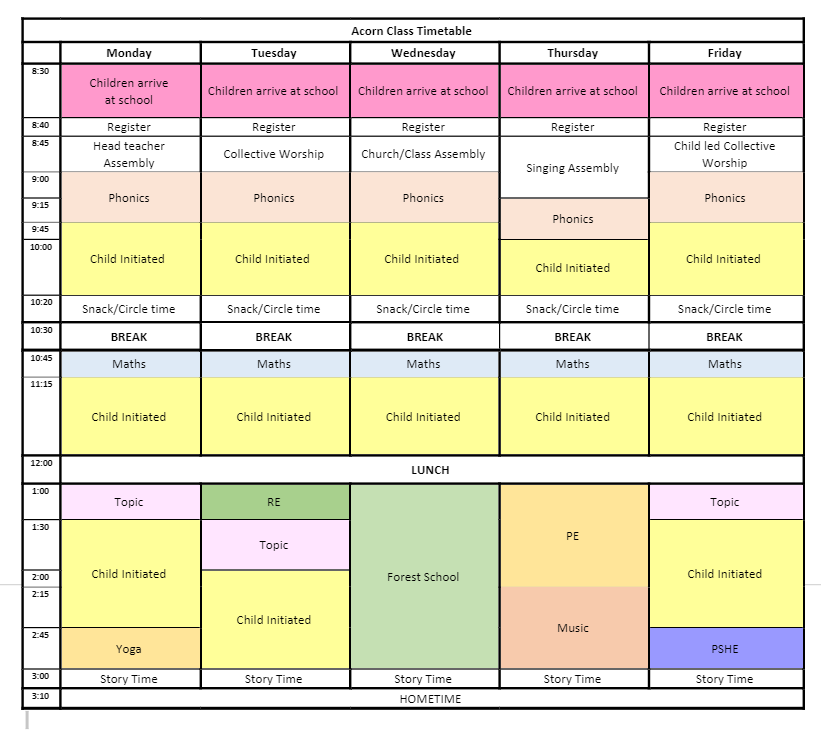 NOTICES:
Please ensure all school uniform is clearly labelled.
Children will need a drinks bottle to be used in the classroom, please ensure your child arrives to school with one.
Children will need a full PE kit.
On Monday's, please bring in forest school kit (to be used on Wednesday's), which needs to include; long trousers, long sleeved top, coat and welly boots.
Children have been sent home with a reading book. Please ensure you read with your child every evening. Please sign and date after you have read with them, so we can keep up to date with how our little book worms are doing with their reading during their early stages of reading for pleasure.
If you have any questions at all, please don't hesitate to talk to Miss Twomey. You can easily contact me using Seesaw, where I will be delighted to respond to any messages as quickly as I can. If necessary, catch me in the morning or after school if it is urgent.
THIS TERM:
Our Topic this term is 'All About Me'.
In Literacy, we will be reading' The Colour Monster, Peepo, Owl babies, and Little red hen. We will be reading the stories as a class, discussing the elements of a story and book. These skills will develop children's understandings as they become familiar with reading and discussing their reading books at home, and in school.
In Numeracy, we will be learning our numbers to 5, comparing, representing, and composing these, taking a deeper look at a number each week. The children will become familiar with one-to-one correspondence. Upon learning 2 to 5, children will become confident in using part-whole models to show greater depth in the composition of numbers.
In Child Initiated (Discovery time), children will be choosing and playing with resources that interest them. The first few weeks at school are vital that children use their discovery time to build strong and important relationships with their peers and teachers.
In RE, we will be looking at 'CREATION' - Why is the word 'God' so important to Christians?
In PSHE, we will be looking at exploring our emotions and feelings, and that of others.
In Phonics, here at Brenzett we follow the Read Write inc (RWI) scheme. This term, we are learning our set 1 speed sounds, beginning to compose letters and blend come consonant vowel consonant (CVC) words. E.G, cat, sat, put, mat, mud, dog, dad.
KEEP UP WITH US:
Parents, please log in to your Seesaw accounts to access our online learning platform and keep up to date with everything we are getting up to every day. Remember, this is the quickest and easiest way to send and receive messages and updates to and from us.
Check back in at the end of the term to see everything we have been getting up to.
Kindest regards,
Miss Twomey xx