Acorns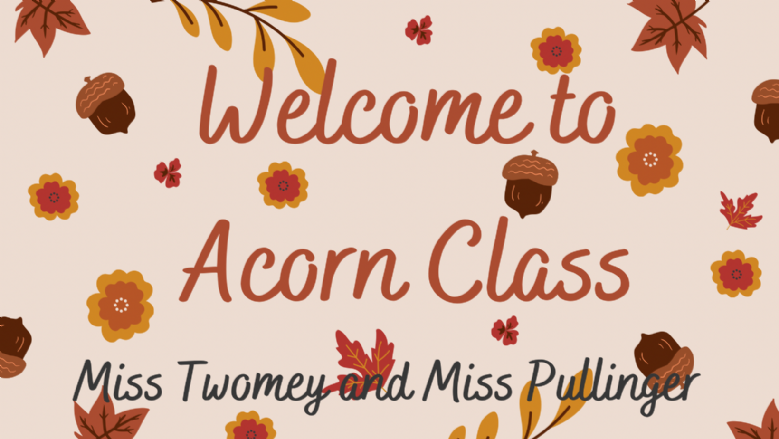 Hello, and a very warm welcome to Acorn class!
We hope you had a lovely summer and are excited for the new school year ahead!
I'm Miss Twomey, and I am the reception class teacher here at Brenzett. You will often find me digging in our flower beds hunting for various insects and spotting birds in our trees!
Miss Pullinger is our class Teaching Assistants (TA). You will definitely find her dancing around the classroom and making mud pies in the mud kitchen!
Here in acorns you will often find us in the garden digging up worms, making something amazing or practising our handwriting and sentence building.
Below, you will find our weekly timetable filled with all the subjects and lessons for this term.
Acorns Weekly Timetable for this term: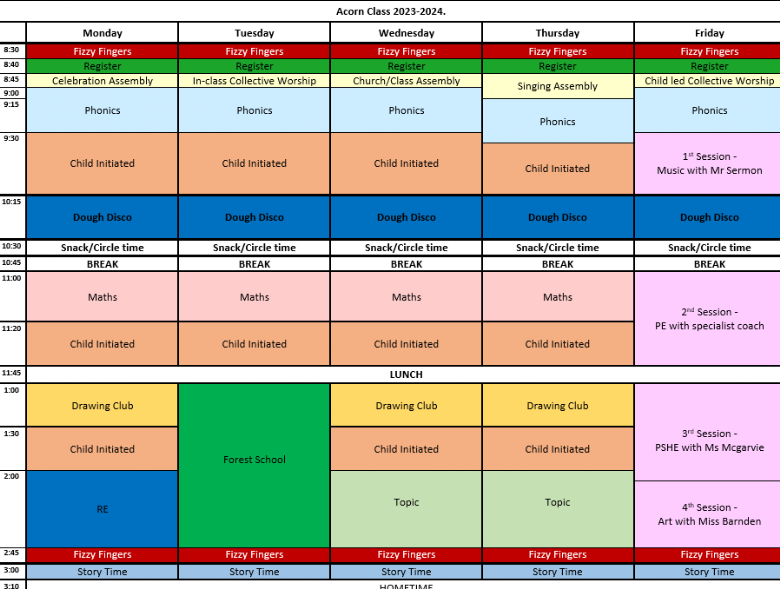 NOTICES:
Please ensure all school uniform is clearly labelled.
Children will need a drinks bottle to be used in the classroom, please ensure your child arrives to school with one.
Children will need a full PE kit clearly labelled.
Please bring in Forest School kit (to be used on Wednesday's), which needs to include; long trousers, long sleeved top, a long sleeved jumper, a coat, a summer hat, and welly boots. These can all be kept at school until the end of term.
READING:
Our focus within reading is to build oral fluency and comprehension. All children will now have a picture book. Please ensure you read with your child every evening. Please sign and date after you have read with them, so we can keep up to date with how our little bookworms are doing with their reading during their early stages of reading for pleasure. Question what events happen in the story, and make them reflect on what they have read. These questioning skills help develop your child's comprehension.
READING COMPETITION:
This term we will be continuing with the rest of the year groups in the reading raffle competition. The aim is, your child will read for 10 consecutive days at home ONLY. They will however, still be reading 3 times a week with an adult at school. After the 10 days of consecutive reading at home, your child will be awarded a bronze award, they will then complete another 10 days for their silver award and a further 10 days for their gold award. After this, they will be given a raffle ticket after every 10 days to be put into the draw to win a prize at the end of the term. The more they read, the more of a chance they have to win. HOWEVER.... if they miss a DAY.. they go back to the start on day 1. Please, please keep reading with your little one!
THIS TERM:
In term 1 we will be learning...
Our Topic this term is all about me. We will be focussing on who I am in the world, who my family are and where I live.
In Literacy, we will be reading a variety of books that link to our topic for this term. We will be reading the stories as a class, discussing the elements of the story and reflecting on how they impact and reflect our lives. We will be developing our skills in reading and writing. We are continuing to develop our understanding of our name recognition, formation and writing. We have started Phonics and will be learning our set 1 sounds.
In Numeracy, we will be beginning our deeper thinking of numbers to 5 comparing, representing, and composing them. Children have been developing their understanding of partitioning numbers 1-5.
In Child Initiated (Discovery time), children will be choosing and playing with resources that interest them, whilst still being engaged in enriching activities to promote deeper thinking. There will be great opportunities for children to bring their learning from Numeracy, Literacy and Topic into their play to deepen their understanding of all the elements in their subject knowledge.
In RE, we will be looking at 'Why is the word God important to Christians?' and settling into the school learning the vision and values.
In PSHE, we will be looking at developing our understanding on emotions and feelings, and that of others.
In Phonics, here at Brenzett we follow the Read Write inc (RWI) scheme. This term, we have a drive to have keen readers and writers within our reception cohort! Children have now been placed in groups which will help support and challenge their development whilst also building their confidence and understanding. Children are using their knowledge form phonics to help their development and awareness for their reading, writing and blending. This term, we have a great focus on children independently writing sentences and stories around our topics and themes.
KEEP UP WITH US:
Parents, please log in to your Seesaw accounts to access our online learning platform and keep up to date with everything we are getting up to every day. Remember, this is the quickest and easiest way to send and receive messages and updates to and from us.
If you want to see what we are up to in our class, the school Instagram is updated regularly with all the fabulous learning we get up to in Acorns!
If you have any questions at all, please don't hesitate to talk to me, Miss Twomey. You can easily contact me using Seesaw, where I will be delighted to respond to any messages as quickly as I can. If necessary, catch me in the morning or after school if it is urgent.
Kindest regards,
Miss Twomey xx