Covid-19 (Coronavirus)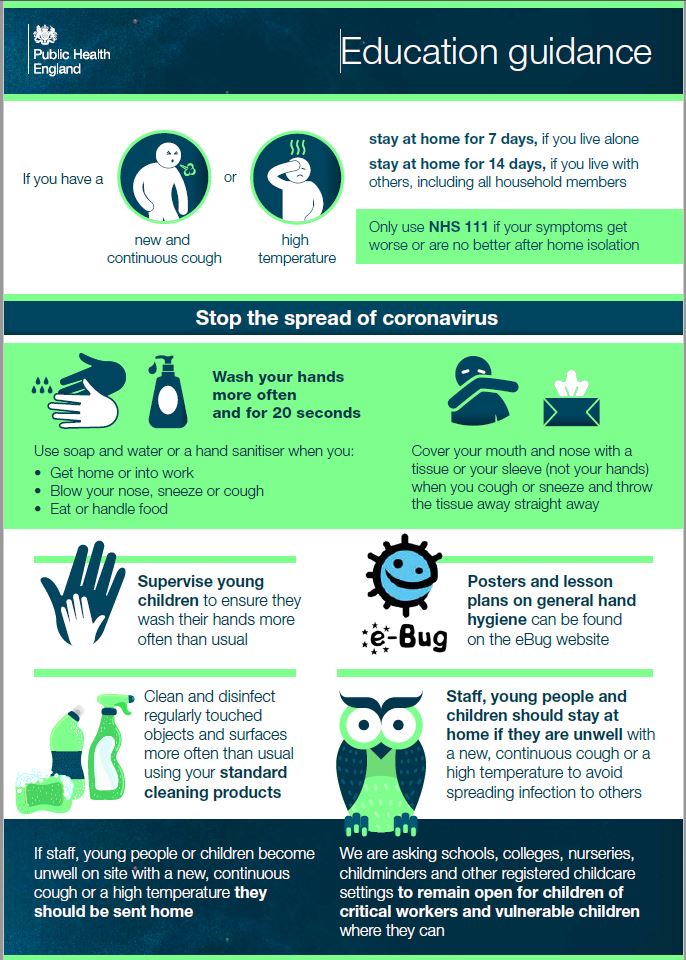 Latest Information: Thursday 26 March 2020
School is CLOSED - except for critical cover for Key Workers or children with an EHCP/Social Worker.
England's Education Secretary Gavin Williamson says schools will be closed "until further notice".
Please see our Key Worker letter - the survey can be completed here.
https://www.gov.uk/government/publications/coronavirus-covid-19-maintaining-educational-provision/guidance-for-schools-colleges-and-local-authorities-on-maintaining-educational-provision
If you require a place at school due to the criteria above, please let the school office know and complete the form here.
Many thanks to those parents and families who are supporting the school at this time through social distancing and keeping children safe at home! A thank you letter to school staff.
Ideas and online resourcing for learning at home can be found on the Class Pages on at this link.
Staying healthy
Wash your hands with soap and water often – do this for at least 20 seconds
Always wash your hands when you get home or into work/school
Use hand sanitiser gel if soap and water are not available
Cover your mouth and nose with a tissue or your sleeve (not your hands) when you cough or sneeze
Put used tissues in the bin immediately and wash your hands afterwards
Try to avoid close contact with people who are unwell.
If you suspect you have symptoms:
Do
try to keep at least 2 metres (3 steps) from other people in your home, particularly people over 70, or those with long-term health conditions
ask friends, family and delivery services to deliver things like food shopping and medicines but leave them outside
sleep alone, if possible
regularly wash your hands with soap and warm water for at least 20 seconds
drink plenty of water and take everyday painkillers, such as paracetamol, to help with your symptoms
Dont
do not have visitors (ask people to leave deliveries outside)
do not leave your home, for example to go for a walk, to school or to public places
The key new government measures are:
Everyone should avoid gatherings and crowded places, such as pubs, clubs and theatres
Everyone should work from home if they can
All "unnecessary" visits to friends and relatives in care homes should cease
People should only use the NHS "where we really need to" - and can reduce the burden on workers by getting advice on the NHS website where possible
By next weekend, those with the most serious health conditions must be "largely shielded from social contact for around 12 weeks"
The UK is now "three weeks" behind Italy - the worst-hit country in Europe
If one person in any household has a persistent cough or fever, everyone living there must stay at home for 14 days
Those people should, if possible, avoid leaving the house "even to buy food or essentials" - but they may leave the house "for exercise and, in that case, at a safe distance from others"
Schools will not be closed for the moment
What to do if you feel unwell?
Coronavirus (COVID-19): guidance from Public Health England
How long to stay at home if you have symptoms
Anyone with symptoms should stay at home for at least 7 days.
If you live with other people, they should stay at home for at least 14 days, to avoid spreading the infection outside the home.
After 14 days, anyone you live with who does not have symptoms can return to their normal routine.
But, if anyone in your home gets symptoms, they should stay at home for 7 days from the day their symptoms start. Even if it means they're at home for longer than 14 days.
Do not go to a GP surgery, pharmacy or hospital.
You do not need to contact 111 to tell them you're staying at home.
Use the NHS 111 online coronavirus service if:
you feel you cannot cope with your symptoms at home
your condition gets worse
your symptoms do not get better after 7 days
Only call 111 if you cannot get help online.
Steps we are taking
Cleaning:
As well as the usual cleaning by our cleaners, overseen by our site team, there will be daily cleaning/disinfecting of all high-traffic hand areas, such as push plates on doors, door handles, tables, sinks etc
A plan has already been put in place where key areas of the school are cleaned/disinfected after each use
All bins will get emptied at the end of the day.
Physical Contact:
Physical contact is an inevitable process in school, but, of course, there are risks of people passing on a virus (as has always been the case). We would encourage people to greet and interact how they feel most comfortable. This may lead to some slightly awkward moments. Feel free to offer a hug or a handshake, but don't be offended if the other person declines!
We would recommend that people continue to follow the NHS guidelines above ('Staying healthy') taking particular note to regularly wash hands, particularly after significant physical contact. The advice is also to avoid touching your face or other surfaces until hand washing has happened.
School Life:
We will continue to work as normal, or until the DfE/Government stipulate otherwise
The children will be asked to wash their hands on entering school in the morning, regularly throughout the day and again just before school finishes
As normal, if a child feels unwell, then we would ask you not to bring them in.
Shutting events/School:
Our school is OPEN - The DfE/Government has not taken the decision to close schools or restrict gatherings
As yet, the government's response does not include closing events of over a hundred people. However, should you feel uncomfortable about attending a 'school event', then please feel free to stay home – with our understanding.
If there were to come a time when we're required to shut schools and larger gatherings, then we will inform our school community at the earliest opportunity to allow people time to assess child care needs and provision.
Isolation:
If you are choosing to stay away out of concern for your health or your children - Please inform the school office and the School Leadership Team of your decision at your earliest opportunity.
office@brenzett.kent.sch.uk
01797 344335